Op-Ed: A Gynecologic Oncologist's Approach to Treating Ovarian Cancer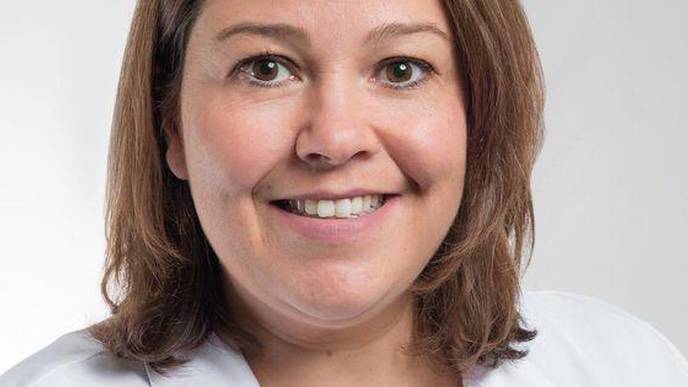 02/28/2020
Photo: GSK/tesaro
When Heidi E. Godor, D.O., gynecologic oncologist, sees new ovarian cancer patients for the first time, she starts preparing them for the likelihood their cancer will return.
For those unfamiliar with the disease, Godoy's early focus on recurrence may seem premature. But she believes that being upfront about the realities of ovarian cancer is as important as discussing the initial treatment, which is typically surgery followed by platinum-based chemotherapy.
Ovarian cancer is difficult to diagnose, increasing the odds that it won't be discovered until it reaches an advanced stage. And in 85% of late-stage ovarian cancer cases, the disease recurs, according to research published in the International Journal of Surgical Oncology.1
"One of the first conversations I have with patients outlines the relapse that often happens with ovarian cancer," said Godoy, who works in private practice in New York State and is affiliated with several hospitals there. "I don't want it to be a surprise if the cancer returns."
Godoy also makes it a point to reassure women living with ovarian cancer that she will be with them throughout their cancer journey. Gynecologic oncologists, she explained, generally provide complete care, from diagnosis to surgery, for cancers affecting the ovaries, uterus, cervix, vulva and vagina. Holistic care is one of the reasons she pursued the subspecialty.
"When I was going through medical school, I wanted a subspecialty that provided a lot of continuity of care," Godoy recalled. "In gynecologic oncology, you develop such personalized, deep relationships with your patients."
Expert, Empathetic Care
For women living with ovarian cancer, receiving treatment from a gynecologic oncologist can simplify care and provide a sense of familiarity with their treatment teams. Research published in Frontiers In Oncology2 in 2015 shows that the highly-trained medical professionals also provide positive clinical outcomes.
Gynecologic oncologists perform complex procedures such as surgical debulking—a tumor-removal procedure that often affects other organs—to remove the entire tumor and improve the prognosis. They are among the only specialists that perform surgical debulking, Godoy said. While surgery and chemotherapy are well-known components of treatment plans, maintenance therapies have become meaningful options for doctors in recent years.
"Ovarian cancer patients who have a response to platinum-based chemotherapy in the recurrent setting are candidates for PARP inhibitors, one of those being niraparib or ZEJULA," Godoy explained.
Those candidates—patients who recur after a first-line treatment and receive a second line of platinum-based chemotherapy—"really need to have that conversation" about starting maintenance therapy, she continued.
"The current approach of watch-and-wait, where we take them off their chemotherapy or their cytotoxic therapy and just watch and wait to see if the cancer returns, is no longer the only option," Godoy said. "Maintenance therapy has changed the paradigm of watching and waiting to see if the cancer returns."
Benefiting From More Recent Treatment Options
The idea of maintenance therapy to treat ovarian cancer is not new, Godoy said. Until recently, however, only intravenous forms of maintenance therapy were available, which required women to receive the treatment in clinics. 
More recent treatment options for ovarian cancer include oral medications, like ZEJULA, which give women the ability to take it at home. ZEJULA is taken once a day.
Women living with ovarian cancer are often surprised to learn that maintenance therapies exist, she added. For the newly diagnosed, Godoy offered important advice.
"If you have ovarian cancer, ask your OB/GYN to make a referral to a gynecologic oncologist and have a meeting with them to discuss your care," she said. "Learn more about current treatments, including maintenance therapy, and be your own best advocate."