The Neurologic Manifestations of Monkeypox: What Experts Know So Far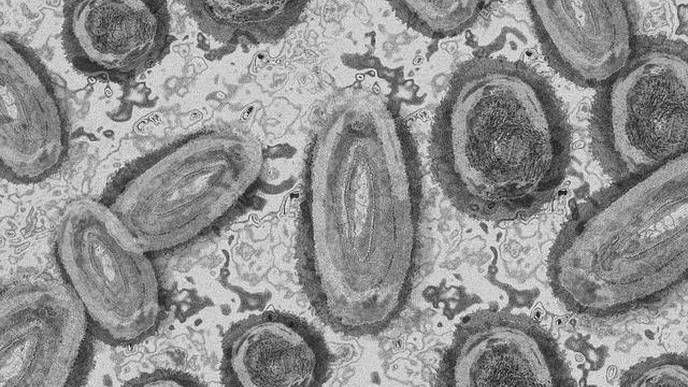 08/26/2022
Photo: Pixabay
The incidence of monkeypox, a viral zoonotic disease first identified in humans in 1970, has increased sharply in the United States and Europe since May 2022. Historically, monkeypox has only occurred sporadically in these regions during the early part of the 21st century. Given the recent COVID-19 pandemic, concerns have been raised regarding the human-to-human transmission of monkeypox, particularly in light of the lack of understanding of what has been driving the rise in cases.
Generally, dermatologic issues such as skin rash are the most reported manifestations that occur on the face and extremities of patients with monkeypox. Neuropsychiatric effects may represent another component of the sequelae; however, these manifestations have not been fully characterized or consistently reported in the literature.
To provide more insight into the potential neurologic effects of monkeypox, and why they might develop, Neurology Advisor spoke with infectious disease expert W. Ian Lipkin, MD, John Snow professor of epidemiology and director of the Center for Infection and Immunity at Columbia University's Mailman School of Public Health in New York, and neurology expert Caleb McEntire, MD, a clinical fellow in neurology at Massachusetts General Hospital in Boston.
Monkeypox & Neurologic Manifestations: What's Known, What's Missing
According Dr Lipkin, there are only minimal data describing the neurologic and psychiatric manifestations of monkeypox, contributing to a significant gap in knowledge regarding the manifestations of the disease.
The most common symptoms of monkeypox that have neurologic origins may also be related to infectious disease overall. "The most common symptoms of myalgia, headache, and fatigue are likely due to the inflammatory responses triggered by infectious diseases," Dr Lipkin explained. "Less common findings such as confusion, seizures, and encephalitis may or may not represent central nervous system infection."
A July 2022 meta-analysis uploaded to medRxiv shows that out of 19 studies with a pooled cohort of 1512 patients (44.8% female) with monkeypox, the most prevalent neurologic features included nonspecific neurologic symptoms such as myalgia (55.5%), headache (53.8%), fatigue (36.2%), and confusion (2.4%). Additionally, more rare yet severe symptoms such as seizure (2.7%) and encephalitis (2.0%), were reported.

Neurologic manifestations not eligible for the meta-analysis but reported across studies included psychiatric symptoms such as anxiety and depression, in addition to sensory-perceptual disturbances such as altered vision, dizziness, and photophobia.

The findings from this meta-analysis are considered preliminary; however, researchers wrote that the observed incidence of "monkeypox-related nervous system manifestations may warrant both surveillance within the current monkeypox outbreak and robust methods to evaluate the potential causality."

In addition, Dr Lipkin noted that anxiety and depression may largely reflect the social and physical stigmata associated with "a painful and potentially disfiguring infectious disease," rather than the disease process itself. "There is much that we don't know about the pathology of monkeypox or its long-term sequelae," he said.
To date, there has been only very rare neurologic complications associated with monkeypox, Dr McEntire explained. "With some of the other pox varieties, like smallpox or encephalitis, which have pretty . . . frequent neurologic manifestations," he said, "the real definitive monkeypox neurologic effects have been documented in very few patients so far in the literature."
However, Dr McEntire noted that the monkeypox we have seen prior to the current outbreak "was generally less implicated in human-to-human transmission," adding that "it's possible that there are some mutations that would increase neurotropism."
The Development of Monkeypox-Associated Neurologic Manifestations
A current "unknown" related to the current monkeypox surge, Dr McEntire said, is how neurologic manifestations could occur as a result of infection. "Historically, that has been a case where evidence of monkeypox was found in the cerebrospinal fluid of a pediatric patient with encephalitis, so we could make the argument that there's some direct neurotropism and that there's a direct ability of the monkeypox virus to go in and affect the brain."
Dr McEntire suggested that the other pox varieties, like smallpox, could provide clues as to how monkeypox could potentially induce neurologic manifestations. "Smallpox has been very reliably detected in perivenular areas in a number of patients, so it is definitely neurotropic," he said, adding that there is to date less evidence accumulated to suggest the smallpox explanation could be extrapolated to monkeypox.
"It is very possible that monkeypox could be neuro-invasive and have some effect on the brain cells themselves," Dr McEntire stated. "It's also possible that any of the effects that it has are simply because it can cause a lot of systemic inflammation, which can cause neurologic symptoms."
Preventing Monkeypox
Given the rarity of neurologic manifestations in patients with monkeypox and the limited evidence available on this topic, there is also very little guidance on how to mitigate the risk for neurologic effects in patients who become infected. "Like with so many of these things, the most effective way to prevent the neurologic manifestations of monkeypox will be encouraging public health measures that prevent the spread of monkeypox," said Dr McEntire.
"Take a look at COVID-19, where even after 2 years and extraordinary worldwide public efforts, we've made incredible progress and we still don't have a cure," Dr McEntire added. "Really the most effective interventions are the ones that stop it from spreading in the first place, which require coordinated public health messaging efforts with cooperation of state, local, [and] federal governments."