Hospital Braces for Coronavirus Pandemic with Warehouse of Emergency Supplies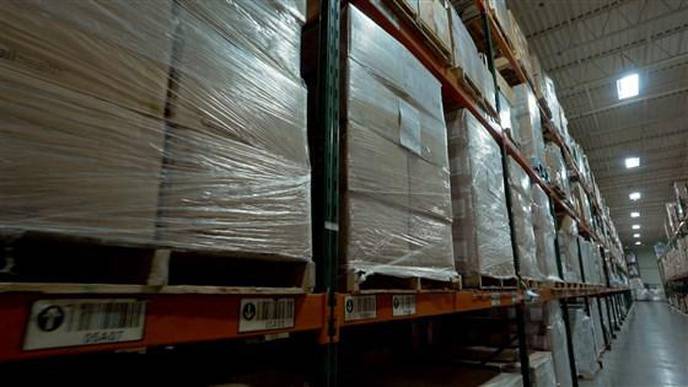 03/05/2020
Credit: Nightly News
On a tree-lined block an hour outside Boston sits a secret warehouse filled with hundreds of boxes labeled "pandemic product."
The boxes, containing items like IV fluid, medical gloves and protective gowns, remain shrink-wrapped in neat rows inside the facility until the day Massachusetts General Hospital orders an emergency infusion of supplies.
With the coronavirus spreading across the U.S., that day may soon be approaching.
"We are trying to hold out as long as we can to tap into that warehouse, because we think there's a chance we will see sustained transmission in the community," said Dr. Paul Biddinger, chief of the division of emergency preparedness at Mass General, noting that the facility "takes us through the worst two weeks."
Calculations like these are being made by health care professionals across the country as hospital systems eye their own supplies in preparation for an influx of patients needing treatment from the coronavirus illness, COVID-19. So far, 18 states have reported more than 100 coronavirus cases, and 11 people have died from the disease in the U.S.
On Wednesday, congressional leaders reached a bipartisan deal to provide nearly $8 billion in emergency funding to fight the disease.
Full Coverage of the Coronavirus Outbreak
In the meantime, Mass General is preparing for a surge in patients, as well as potential shortages caused by a disruption in Chinese manufacturing.
"We've been looking, since January, at our pharmaceuticals, our other medical supplies, to identify what's manufactured from China," Biddinger said. "And look at our contingency strategies for what we have to do if we don't get as much as we need."
Shortages of essential medicines had already been an issue for hospitals, and now, with the spread of coronavirus worldwide, Biddinger says, his team has been working to map out what drugs could be affected and whether there are any alternatives.
"Certain drugs don't have alternatives," he said. "And when we face a drug shortage of critical medications, that really threatens patient care."
Health care providers, experts and lawmakers have long noted the risks of a medical supply chain increasingly dependent on China, warning of the lack of alternatives should the country fail to provide products to the U.S. Some experts have talked about the country's dependence on China as a national security threat.
According to data from the Food and Drug Administration, about 85 percent of manufacturing facilities used to make ingredients for American drugs are overseas — many in China and India. But even India has signaled that it is feeling the effects of a disruption in its supply chain, restricting exports of 26 drugs and pharmaceutical ingredients. The list includes antibiotics and products like paracetamol, a common pain reliever best known in the U.S. as Tylenol.
Even before the coronavirus outbreak began, the fragility of the U.S. drug supply chain was apparent. Last year, there was a widespread recall of the popular blood pressure medications due to contamination. And most recently, nearly 9.1 million surgical gowns were recalled because of quality concerns.
The conversation took on an elevated sense of urgency late last week, when the FDA issued a news release indicating that a manufacturer had notified it of a drug shortage linked to a site affected by coronavirus. The agency said it has identified about 20 other drugs that could be affected because of their sourcing from China.
When asked why the FDA did not name the drugs, the agency said it could not disclose "confidential commercial information."
"We need the cooperation of the drug companies in order to obtain accurate information as we proactively take steps to mitigate drug shortages, and companies will be less willing to provide this voluntary information if they cannot trust FDA not to disclose commercial confidential information such as drug names, company names or exact location of facilities," an FDA spokesperson said in a statement to NBC News.
But some resources at Mass General are already in short supply, regardless of whether they are sourced from China, including N95 respirators, protective masks designed to filter out airborne particles.
"We've been going direct to the manufacturer for information. And they have told us that they're manufacturing at a higher-than-normal capacity," said Ed Raeke, the hospital's director of materials management.
Mass General has made its staff aware of the need to conserve resources. Inside one of the hospital's supply closets, several laminated pink signs remind employees to grab only one box of N95 masks per request.
In a worst-case scenario, ventilators could become a concern. Biddinger said they are vital for patients undergoing respiratory failure including cases that might arise from the coronavirus. He said the hospital has somewhere between 150 to 200 ventilators to treat patients — enough for now.
"If the peak of illness is narrow, meaning we need lots for a short time, we could run out of our traditional ventilators," Biddinger said.
As it is, he said, the medical center considers itself lucky given that smaller hospitals may struggle with fewer resources.
While Mass General says it has not yet had a patient with coronavirus, the hospital's emergency response team — made up of physicians, nurses, support services and security — meets daily to assess the situation.
"And as soon as we started to see some of the information coming out of China, this looked like an outbreak that really could spread more broadly and really put stress on the health care system, on our patients, on the public and on our facilities," Biddinger said.
In a news briefing Tuesday, the Centers for Disease Control and Prevention confirmed that it was also monitoring the nation's supply of protective gear, working with state and local health departments to figure out how to keep health care workers protected.
Back at the warehouse, the facility's chief compliance officer, Mark Sotir, remembers working on the 2009 H1N1 swine flu pandemic and says his team is ready to provide same-day delivery on a request for more supplies.
"Anybody that deals in emergency medicine or this type of thing has to plan for that catastrophic event, just in case," Sotir said.