US Extends Social Distancing Guidelines Through End of April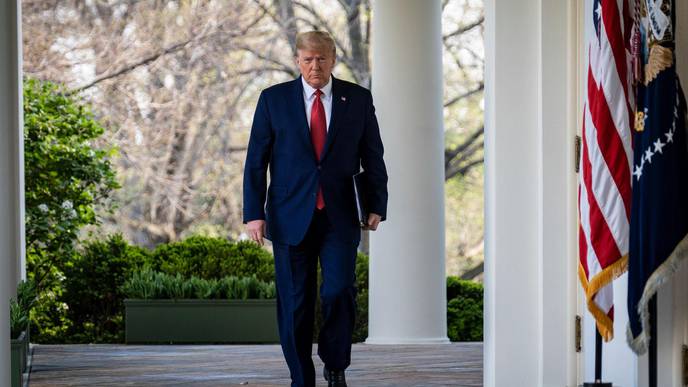 03/30/2020
Photo: Pete Marovich
The president, facing grim figures from his health advisers, starkly reversed an earlier upbeat assessment that the country could relax the guidelines by Easter.
President Trump retreated Sunday from his desire to relax coronavirus guidelines by Easter, announcing instead that all Americans must continue to avoid nonessential travel, going to work, eating at bars and restaurants, or gathering in groups of more than 10 for at least another month and perhaps until June.
The grim recommendation, which the president made in the White House Rose Garden, came just a day before the end of a two-week period in which the world's largest economy has largely shut down with staggering consequences: businesses shuttered, schools and colleges emptied, and social life all but suspended.
Mr. Trump said repeatedly last week that he wanted to reverse such drastic measures soon, perhaps by Easter, on April 12, in the hopes of restarting the economy. But public health experts — including the president's own advisers — had warned that trying to return to normal life too quickly risked allowing the virus to rage, increasing the likelihood of more infections and raising the number of deaths.
The president finally appeared on Sunday to acknowledge the possibility of deaths on a large scale and back down from weeks of insisting that the threat from the virus might be overblown. In the past month, Mr. Trump has vacillated between accepting the need for aggressive action to limit the pandemic and complaining that such moves will harm the economy.
But on Sunday, his mood seemed somber as he conceded the need for another month of collective pain. Citing figures from his advisers that showed that as many as 200,000 people could die from the virus even if the country took aggressive action to slow its spread, Mr. Trump said the restrictions must continue, even if it meant more sacrifice in the days ahead.
"During this period, it's very important that everyone strongly follow the guidelines. Have to follow the guidelines," Mr. Trump told reporters, with members of the government's coronavirus task force nearby. "Therefore, we will be extending our guidelines to April 30 to slow the spread."
"We can expect that by June 1, we will be well on our way to recovery," Mr. Trump said. "We think by June 1. A lot of great things will be happening."
Dr. Anthony S. Fauci, the nation's leading infectious disease expert, said he and other public health officials had urged Mr. Trump not to relax the guidelines too soon. Dr. Fauci — who in television appearances earlier in the day had offered the estimate of 200,000 dead — said Mr. Trump was affected by those predictions.
"The idea that we may have these many cases played a role in our decision in trying to make sure that we don't do something prematurely and pull back when we should be pushing," Dr. Fauci said. He said extending the guidelines until April 30 was a "wise and prudent decision" that Mr. Trump reached after discussions over several days with Dr. Deborah L. Birx, the coordinator of the effort to fight the virus, and other health officials.
"Dr. Birx and I spent a considerable amount of time going over all the data, why we felt this was a best choice for us, and the president accepted it," Dr. Fauci said.
Aides said that Mr. Trump was muted during the task force meeting before Sunday's news conference, his mind almost entirely made up to extend the guidelines. One adviser said the president recognized that the data about the potential impact of the virus in the United States was bad, and could not be bent to his will.
For weeks, Mr. Trump had compared the coronavirus to the flu, repeatedly suggesting that many more people die of the flu each year than would succumb to the virus. But on Sunday, he repeatedly cited predictions that up to 2.2 million Americans could die from the virus if nothing were done to stop its spread. He talked about "the viciousness" of the virus and revealed that it had sent a friend to the hospital.
"He's a little older and he's heavy. But he's a tough person, and we went to the hospital and a day later he's in a coma," Mr. Trump said. "How is he doing? 'Sir, he's in a coma. He's unconscious. He's not doing well.' The speed and the viciousness, especially if it gets the right person, it is horrible."
The president also expressed horror at the grim scenes playing out at the hospitals in New York City, where he spent much of his adult life. He cited the situation at Elmhurst Hospital Center — "I know it very well," he said — which has been inundated in recent days with people ill from the virus.
"I've been watching that for the last week on television, body bags all over in hallways," Mr. Trump said. "I have been watching them bringing in trailer trucks, freezer trucks because they can't handle the bodies. There are so many of them. This is in essentially my community in Queens, New York. I have seen things that I have never seen before."
The president's turnabout came as state and local officials across the country confronted rapidly rising numbers of infections that threatened to overwhelm their hospitals amid shortages of protective equipment and fears that there would not be enough doctors and nurses to tend to those who get sick.
Several of the nation's governors said on Sunday that they anticipated surges of cases during the next several weeks, and they urged their residents to continue to follow social distancing guidelines that would slow the spread of the pandemic.
"If we don't flatten the curve, we're on a trajectory currently to exceed our capacity in the New Orleans area for ventilators by about April the 4th, and all beds available in hospitals by about April the 10th," Gov. John Bel Edwards, Democrat of Louisiana, said on NBC's "Meet the Press" program Sunday morning. "So we're doing everything we can to surge capacity. It's very difficult."
Gov. Jay Inslee, Democrat of Washington, who has frequently clashed with Mr. Trump, said before the president's announcement that his state would not be ready to lift social distancing guidelines any time soon.
"Boy, I would not want to be responsible for opening the door to this virus to ravage our places that seem OK today, but, within 10 weeks, within 10 days, can be at full-scale burning through our hospital system," Mr. Inslee said on CNN's "State of the Union" program. "And we have seen this happen. We have got to be ahead of this curve."
Over the last several days, Mr. Trump has lashed out at the governors, suggesting that some of them do not appreciate the help that they are getting from him and from others in the federal government.
Mr. Edwards and several other governors largely steered clear of responding to those criticisms by Mr. Trump. Instead, several of them stressed that they were working with the Federal Emergency Management Agency and other federal agencies even as they pleaded for more help getting ventilators, surgical masks and other medical equipment they need.
"You know, I don't have energy to respond to every slight," Gov. Gretchen Whitmer, Democrat of Michigan, said on "State of the Union." "What I'm trying to do is work well with the federal government. And I will tell you this. There are people from the White House on down who are working 24/7, just like we are at the states. We're all stressed, because we have people that are dying right now."
Still, on Sunday, Mr. Trump repeated a complaint that Democratic governors had insulted him and said he would delegate calls with those officials to other people in the White House.
"I don't have to call because I'm probably better off not," Mr. Trump said, describing Mr. Inslee as "a nasty person" and raising his failed candidacy for the Democratic presidential nomination. "I don't like the governor of Washington, so you know who calls? I get Mike Pence to call. I get the head of FEMA to call. I get the admiral to call."
"Because when they disrespect me, they're disrespecting our government," he said.
And Mr. Trump once again targeted officials in New York for scorn, appearing to suggest that New York hospitals are hoarding — or doing something else improper — with protective gear like their surgical masks. He said that he did not believe they really need the increases in protective equipment they claim are necessary to protect doctors and nurses treating coronavirus patients.
Mr. Trump said he was told that demand for masks at a New York hospital jumped from 10,000 to 20,000 per week before the virus arrived to nearly 300,000 a week now.
"Something's going on. And you ought to look into it as reporters. Where are the masks going — are they going out the back door?" Mr. Trump said. "Somebody should probably look into that because I just don't see from a practical standpoint how that's possible to go from that to that, and we have that happening in numerous places."
The president seemed to be suggesting that New York hospitals were lying about how many masks they needed. Mr. Trump said he was given the information about the increased demand for masks at the hospital from an executive of a company that makes them who was sitting in the audience.
In fact, hospitals throughout the country have said the surge in coronavirus patients requires that doctors and nurses change masks repeatedly throughout the day to protect themselves from getting infected. That has created a huge shortage of masks.
Mr. Trump again clashed with reporters, chiding Yamiche Alcindor, a PBS reporter, and later Jeremy Diamond, a CNN reporter, who made a point of giving his question to Ms. Alcindor, whom the president cut off earlier in the news conference. He instructed Ms. Alcindor to be nice and not "threatening," while Mr. Diamond's question prompted him to declare: "CNN is not trusted anymore. They are fake news."
Before facing reporters, he attacked the "the Lamestream Media" on Twitter, even as he repeatedly trumpeted the high ratings for his coronavirus briefings, which have rivaled "Monday Night Football" and the season finale of "The Bachelor."
Mr. Trump also denied on Sunday that he had threatened to quarantine New York, New Jersey, and Connecticut on Saturday, despite suggesting 24 hours earlier that he was seriously considering doing just that.
"I didn't do that at all. Read the statement. Read the statement. Read what I said," Mr. Trump told a reporter. "I said we're going to look into possibly quarantine. I didn't say we're going to quarantine. I looked at it as a possibility, because a lot of our professionals suggested quarantine. I said we're going to look at it."
The president's musings about a ban on travel in and out of New York and the other states prompted hours of confusion and some fear as residents of the three states considered rushing to leave before the quarantine was put in place. On Saturday evening, Mr. Trump announced a travel advisory urging people against nonessential travel but stopping short of a quarantine.