Where Cancers Go Could Guide Their Treatment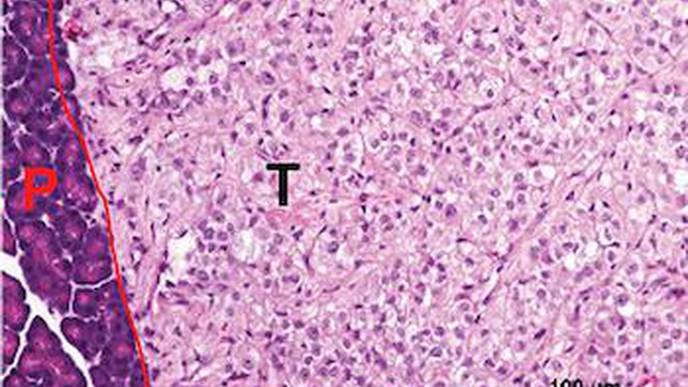 04/13/2020
Kidney cancers that metastasize to the pancreas have a fundamentally different biology from those that metastasize elsewhere, with characteristics that can influence successful treatment, a study led by investigators with the UT Southwestern Kidney Cancer Program suggests.
This research, published today in JCI Insight, is the first to show that where cancers spread to can give specific insights on disease traits. If generalizable, the findings could have profound implications.
Clear cell renal cell carcinoma (ccRCC), the most common type of kidney cancer, has a wide range of sites it can metastasize to, sites as unusual as the tongue, salivary glands, testes, pituitary gland, or spleen. But for years, researchers have known that ccRCC patients whose cancers spread to the pancreas – a relatively uncommon destination – had better prognoses than those whose tumors don't. That was the case even if their tumors metastasized to other sites as well, says study leader James Brugarolas, M.D., Ph.D., professor of Internal Medicine (Hematology/Oncology), and the leader of the Kidney Cancer Program at UTSW. However, the reasons for this phenomenon have been unclear.
To help answer this question, the researchers gathered data from 31 patients with pancreatic metastases who were seen at either UTSW or the Cleveland Clinic over the last few years. They collected their samples and performed a battery of tests including next generation sequencing analyses. They looked at each patient's survival, individual risk factors that might have influenced survival, and the treatments these patients received. They compared the cohort with a contemporaneous cohort of similar patients without pancreatic metastases from UTSW.
The researchers found that the patients with pancreatic metastases had significantly better overall survival compared with those whose ccRCC had metastasized to sites that didn't include the pancreas; those who had pancreas metastases had a median survival of 8.4 years compared with 2.9 years for those who didn't. The results were independent of established prognostic factors. Furthermore, patients with pancreatic spread were more likely to have success with a class of drugs known as angiogenesis inhibitors, which block blood vessel formation. In contrast, immune checkpoint inhibitors, which help the immune system recognize and fight tumors, did not work.
Tumors isolated from patients with pancreas metastases were unusually bland and uniform for metastatic cancers. They all had similar characteristics under the microscope – tumor cells were arranged in nests filled with blood vessels and there was little inflammation, says Payal Kapur, M.D., professor of Pathology and Urology and co-leader of the Kidney Cancer Program at UTSW. Compared with tumors that metastasized elsewhere, tumors that had spread to the pancreas shared mutations associated with low aggressiveness and activation of genes related to the vasculature.
When the researchers placed samples of the kidney tumors of patients with the characteristic mutations into the pancreases of mice, they thrived – suggesting that the pancreas could support their growth. There's something unique about their biology that makes the pancreas a likely destination, Kapur says.
Where cancers metastasize doesn't typically guide drug treatment decisions, but this may change for patients with pancreatic metastases.
"The idea that the cancer destination can tell you something about the biology of the cancer and how it should be treated is provocative," Brugarolas says.
The study was supported by a Specialized Program of Research Excellence (SPORE) award from the National Cancer Institute and other sources. It was a collaboration with Brian Rini from the Cleveland Clinic, and it involved UTSW researchers Nirmish Singla, Zhiqun Xie, Ze Zhang, Ming Gao, Qurratulain Yousuf, Oreoluwa Onabolu, Tiffani McKenzie, Vanina Toffessi Tcheuyap, Yuanqing Ma, Renee McKay, Alana Christie, Oscar Reig Torras, Isaac A. Bowman, Vitaly Margulis, Ivan Pedrosa, and Tao Wang. Other investigators from Cleveland Clinic were Jacob Choi and Christopher Przybycin.
Dr. Brugarolas holds The Sherry Wigley Crow Cancer Research Endowed Chair in Honor of Robert Lewis Kirby, M.D. Dr. Kapur holds the Jan and Bob Pickens Distinguished Professorship in Medical Science, in Memory of Jerry Knight Rymer and Annette Branton Rymer and Mr. and Mrs. W.L. Pickens.